Meet the ALC Staff
Our Team
Meet the people who care for your pets
Our diverse and skilled team of pet care and grooming experts, many of whom are pet owners themselves, will care for your pet as if he or she is their own! We're never afraid to go the extra mile for your pet's well-being!
All full time ALC staff are certified in pet CPR and first aid!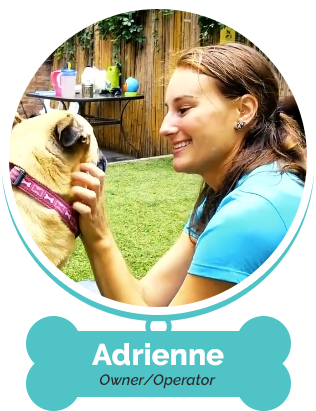 Adrienne first came to know ALC as a Carroll Gardens resident and dog owner and later spent several years managing operations while juggling an editorial career. Her love for the dogs and cats of Brooklyn — and for their people — made for a happy transition into a full commitment to the business when she formally took the reigns in 2017. She was a finalist for Pet Industry Woman of the Year in 2018. Adrienne lives with her husband and rescue pup, Gladys.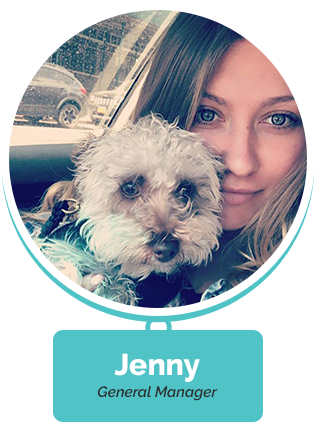 Jenny joined ALC in 2016 as she finished her bachelor's degree in business management from CUNY College of Staten Island. Jenny grew up with a love of animals and always knew that she would pursue a career in animal care. Previously she worked at a larger doggy daycare in south Brooklyn and came to ALC in search of an environment that would allow her to connect more personally with each dog and owner.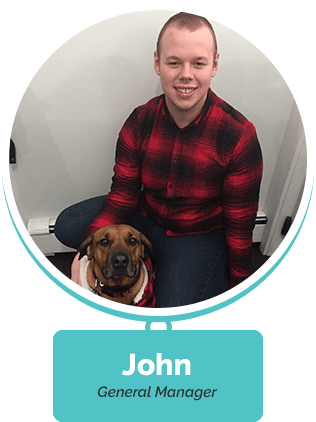 John, a proud Bostonian, originally started working with animals to deepen the relationship he had with his own dog. After studying canine behavior and psychology he became a certified dog trainer. When he moved to Brooklyn it was deeply important to him that he get to continue working with animals and in late 2015 officially joined ALC. Admittedly, he is beagle obsessed. You can join John and an array of puppies at our monthly puppy socials!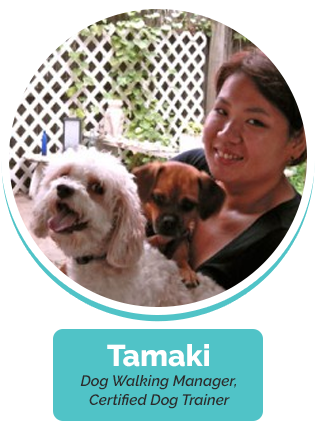 As a teen, Tamaki adopted a dog named Taro who was aggressive, fearful, and difficult to handle. To help him, she began to study canine behavior and psychology and the methods she learned drastically improved Taro's behavior. She now uses these skills to help train the dog walkers at ALC. In 2010, Tama earned a Basic Canine Trainer certificate. She continues her education via an apprenticeship with Urban K-9 and the Catch Canine Trainers Academy Master Course.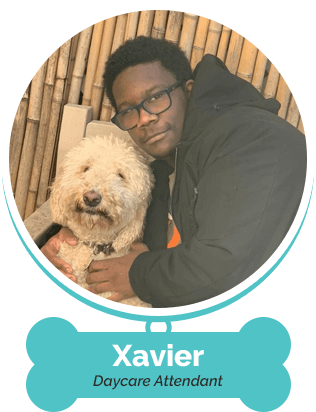 Xavier is a proud lifelong Brooklynite. He joined Animal Loving Care in 2019, after the completion of a pet care technician certificate from the Institute of Career Development. Xavier's life-long love of animals was what made him choose to enter the petcare field. When asked what his favorite part of the job was he said "building a relationship with each of the dogs in my care and watching how they grow up and change over time."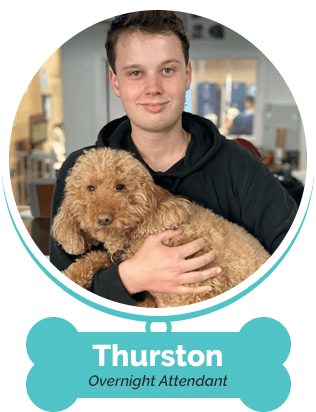 From his origins in Portland, Oregon to the campus at SUNY Plattsburgh to Williamsburg, Brooklyn, Thurston has always brought his love of animals with him. He grew up with two cats and a dog and frequently took up pet-sitting jobs as a teenager, which grew into a passion and ultimately a career. Thurston joined ALC in the fall of 2019 and holds multiple roles. He says "my favorite part of the job is taking the time to greet and work one-on-one with each of the dogs in my pack."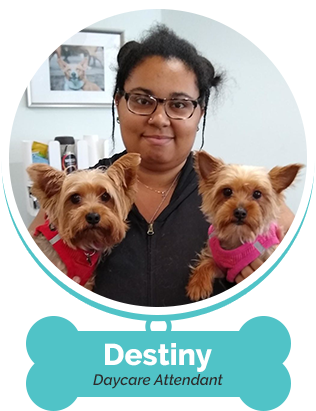 Destiny grew up with animals from a young age as her mother was a veterinary technician. She knew she, too, wanted to work with animals since the age of six. Destiny is currently in college with a track to study veterinary medicine. She loves working with the daycare pups at ALC because she "get[s] to meet dogs of all breeds with all different personalities and I love them all!"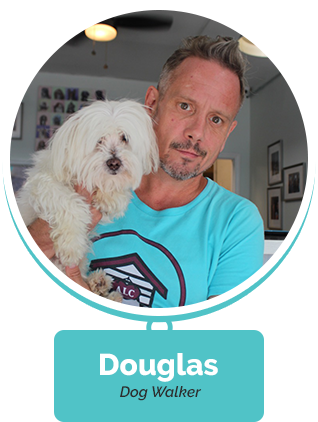 Douglas began working as an ALC dog walker in early summer of 2018, but spent years professionally walking dogs in downtown Manhattan before that. On Sept. 11th, he was walking when the towers fell and spent the day rounding up all his clients' dogs and getting them to safe havens out of the area until he could reach their owners. Douglas is a native New Yorker and grew up in a house full of cats and dogs as well as six siblings!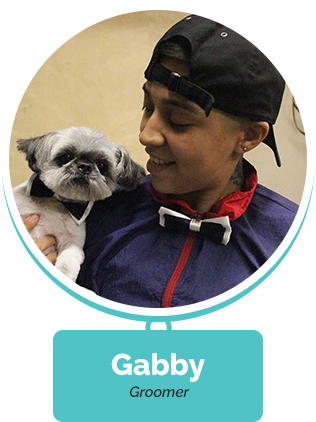 Gabby joined ALC in spring of 2017 after apprenticing and working with a senior groomer in salons in Brooklyn and the Bronx. Gabby quickly became a master at handling dogs and cats who have anxiety with grooming. She is a music lover and is often seen singing and dancing with the pets she grooms. She is Pet CPR certified.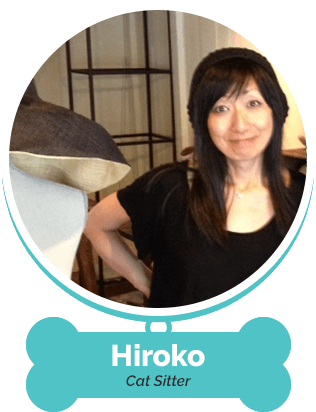 Hiroko came to Brooklyn after completing graduate school in London and since 2014 has been one of our most popular cat sitters. Having a cat with diabetes herself, Hiroko understands that cats are part of the family and takes pride in providing owners the confidence of knowing their cats are getting the best possible care.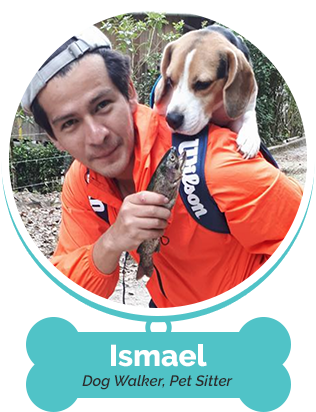 Ismael was born in Quito, Ecuador, where he grew up surrounded by dogs; at one point his family owned 12! He also had a cat, fish, a parrot and two turtles. After college, Ismael explored other work before joining a big pet company, and finally landed with ALC. Now, he says, "I couldn't imagine myself doing something not related to pet care."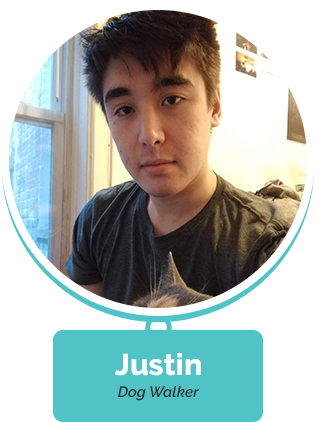 Brooklyn born and raised, Justin joined the ALC dog walking team in Spring 2018. An animal lover as far back as he can remember, Justin has found it incredibly rewarding to walk with and get to know the unique personalities of each dog in his charge. His loyal cat Lun,a whom he found abandoned after Hurricane Sandy in 2012, every day questions where Justin has been all day and why he smells like dogs!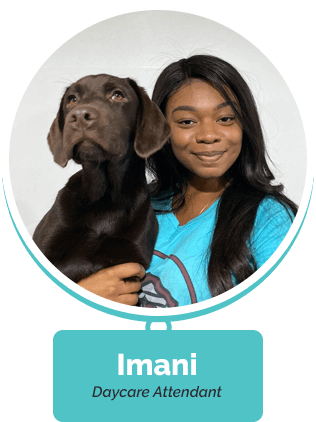 Imani was born and raised in New York, New York. She joined ALC in 2018, after the completion of a specialized animal behavior training program through the Institue for Career Development. "I have always been a devoted animal lover. Dogs, cats, and other small animals have always had a special place in my heart," she says. When asked about favorite aspects of her job at ALC she said, "I love getting the opportunity to develop personal bonds with the animals I care for."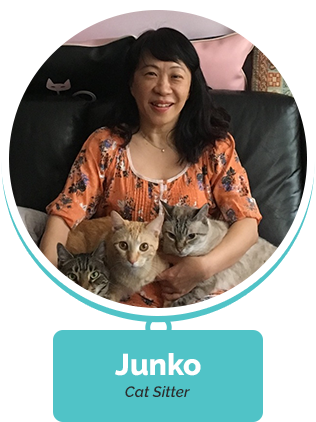 Junko joined the ALC team in 2014. She has spent her life devoted to caring for other people's cats as well as her own three. She often fosters others. Junko cherishes the opportunity to create new relationships with each cat she meets. Her lifelong hobby has been photography and she enjoys getting to send owners beautifully photographed updates while they are away.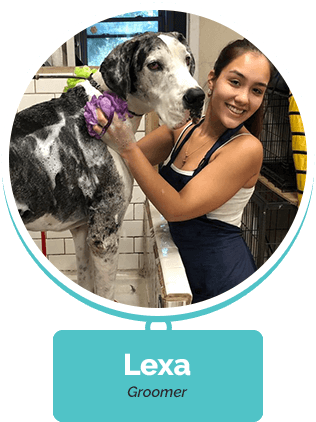 Lexa is a self-proclaimed "crazy dog mom," obsessed with her maltese, Casper, who motivated her to do work that would help dogs in some way. "As a groomer, I provide valuable health-related services and can build meaningful relationships with the pets and owner," she says. Lexa did her grooming apprenticeship at ALC via Animal Behavioral College and is now a certified groomer.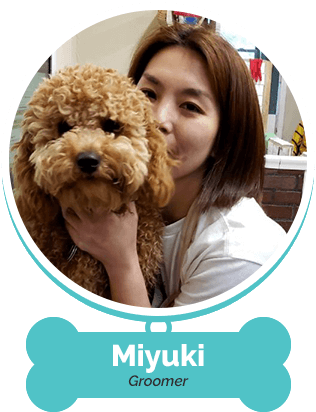 Miyuki is a graduate of Yokohama Trimming School in Japan. She returned to her career as a professional dog groomer in 2014 at ALC. After working a series of jobs that proved to be unfulfilling she understood that her passion was helping animals to achieve their most fabulous looks! Miyuki is known as Brooklyn's premier doodle groomer for all of the fabulous doodle breeds in our hood.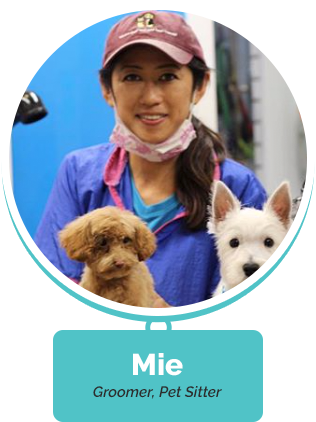 Mie is a graduate of the New York School of Grooming, class of 2008. Mie has been an integral part of ALC since 2008. On top of being an all-star groomer Mie is also an avid marathoner and a loyal member of a running team in Manhattan. "The best part of my day is seeing how happy both owner and pup are after the groom is done."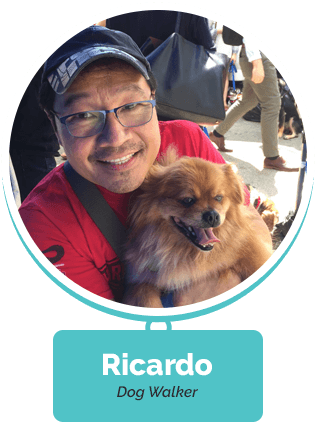 Ricardo grew up in Panama City, Panama and earned a BA in Fine Arts, Interior Design, and French from Lamar University in Beaumont, Texas. In 2019, Ricardo joined Animal Loving Care in search of a job that would be a combination of fun and work. He chose to enter the pet industry in part because of the love he has for his two fur babies, Maxy + Reno. Ricardo says the best part of his job at ALC is "building such meaningful relationships with each pet I meet!"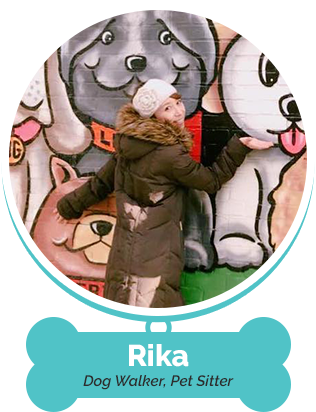 Rika, a graduate of Shukutoku College with a degree in social welfare, joined ALC as a dog walker in 2017 and has enjoyed building trust with each of her regular clients. Devoting everything she has to providing a happy and safe experience for each pup she walks, Rika is extremely thankful to be a valued part of the ALC team.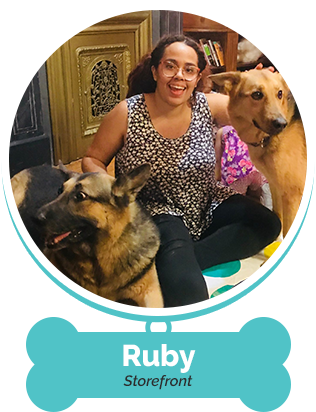 Ruby is a bubbly and warm personality always eager to greet our human and pup clients. She has a strong love for animals and pet sat and dog walked for neighbors and friends for many years before joining ALC. Ruby has a young daughter who also shares her animal obsession and together they enjoy watching dog and kitty videos.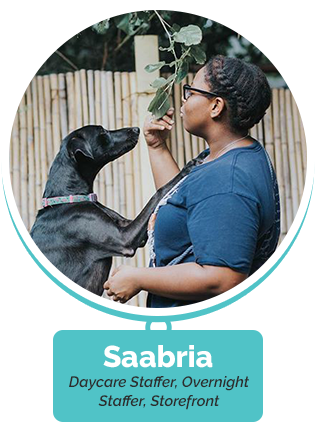 Saabria joined ALC as a student intern – studying Animal Behavior as well as Ecology and Conservation – and after showing great strength in her handling skills was brought on as a member of our daycare team. Saabria can be found playing with the daycare pups and has loved getting to know all of their different personalities!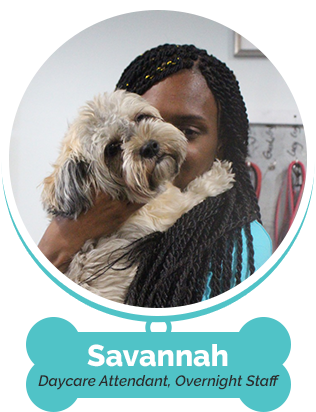 Savannah came to ALC as a student intern where she quickly showed her ability to wrangle the pack while offering plenty of hugs and kisses. Savannah is a Brooklyn native who has spent lots of time around kids and volunteering with youth groups — making her a natural at handling the kindergarten qualities of dogs at play!