Dog Walking
We aim to build a personal relationship with your dog. To that end, we never walk more than four dogs at a time. Our standard dog walks are forty minutes long and tailored to the walking style of your dog. You'll get detailed text updates on what happened during each visit from one of our caring staff members. Need a dog walker in Carroll Gardens, Cobble Hill, Brooklyn Heights, Boerum Hill, or Gowanus? Shoot us a message and see why we were voted one of the best dog walking companies in Brooklyn!
Small group socialization (4 dogs max)
Safe and secure pick-ups — we never leave dogs tied up outside!
A professional trained walker taught how to safely and securely handle your dog in a small pack
40 minutes of physical and mental exercise. We practice good manners and leash-walking skills.
Water bowl refills, and post-walk treats
Text update with details on your pup's walk, including stool condition
We are also happy to feed a meal, wipe paws/body, etc if requested
Scheduling Policies
All weekday walks must be scheduled no later than the night before. Weekend walks must be scheduled by Friday at noon. Cancellations with less than 12 hours notice pay full amount.
Areas we cover dog walking in Brooklyn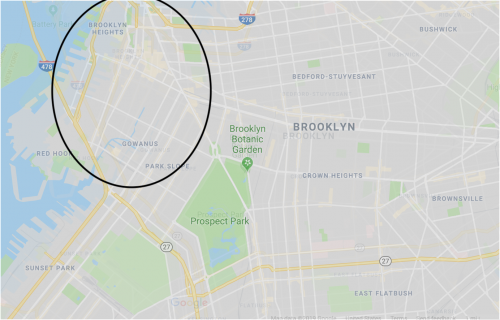 Inquire about dog walking