Dog Daycare
We provide dog daycare in a structured, welcoming environment with attentive staff who cater to the needs of your dog. Our indoor and outdoor spaces give pups plenty of room to romp around in. We also ensure plenty of personal attention for each of our canine guests. Separate areas are available for dogs that are less active or need solo time, but we never leave your dog alone. We match daycare dogs with others that share a similar playing style and temperament.
All new clients must undergo a behavior evaluation prior to joining the ALC dog daycare group.
Mon-Fri, 8 am-8 pm • Sat/Sun 10 am-7 pm
Quiet hours (no pick up/drop off) 12:30 – 3 PM M-F
Late pick up charges apply past closing
Rates
Full day (5 hours or more)
$40
Two dogs, same household
$25 for second dog
Half day (less than 5 hours)
$28
Trial
(new customers)
$15 for 2-3 hours
If your dog spends the full day, you will be charged the full day rate
Pickup/Drop-off service
(on foot)
*Only available in local neighborhoods, must book in advance
$10-$15 based on location, Mon-Fri;
$25 Sat-Sun
Sign up as a client (and be sure to send vaccine records in the format described!)
Schedule an evaluation for your dog. If you're interested in daycare*, this is a day trial. If you're interested in boarding, this is an overnight trial. You can request by emailing us * Please note as of June 2019 we have a wait list for any new daycare clients. Please contact us after signing up for current wait period.
To ensure the safety and health of your dog and our other guests, we have the following requirements:
— Dogs must do well with other dogs and humans. If your dog has any history of aggression towards humans or other dogs, ALC is not the right fit for your pup as we do not separate our canine guests.
— Dogs must be three months of age or older and on course with all required vaccines. Dogs must be spayed or neutered by 7 months of age.
— Dogs must be vaccinated for rabies, distemper, parvo, parainfluenza, and hepatitis, (DHPP, DA2P, or equivalent) and bordetella. The canine influenza vaccination (H3N2 & H3N8) is recommended, but not yet required.
— Dogs should be in good health. Upon admission, all dogs must be free from any communicable conditions.
— Dogs must have been in your care for at least three weeks prior to attending daycare/boarding.
— Dogs must be brought to ALC with a collar they can wear for the duration of their stay.
Save With Pre-Paid Packages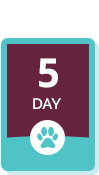 $10 discount
PLUS 10% off any
retail purchases
while active
$25 discount
PLUS 10% off any
retail purchases
while active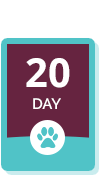 $35 discount
INCLUDES a Super Discounted BBB Service
and 10% off any
retail purchases
while active
$55 discount
PLUS
FREE BBB Service
and 10% off any
retail purchases
while active